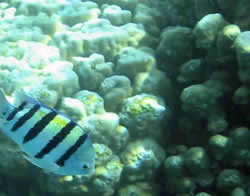 Animal Life
Sea turtles, sharks, dolphins, octopus, squid and cuttlefish all call the Red Sea home. Hundreds, if not thousands, of sea creatures, including more than 1,200 species of fish, live in the sea. It is one of the only places in the world where one can see 30 to 40 different species of fish in one brief glance.
Thousands of sea birds also inhabit this region because of the sea's shallow waters along its coastline. Birds are primarily seen during the spring and fall months. Common species include:
Lesser Flamingoes,
Greater Spotted Eagle,
White–eyed Gull, and
Greater and Lesser Sand Plover.
Without preservation and protection of these waters, these animals may soon become endangered.